L+R's specialized luxury and digital craftsmanship business unit, Liquid Crystal, was selected for the 2022 Lovie Award shortlist within the Web3/NFT category.

Since the launch of Liquid Crystal, the team has worked on technology-enabled projects for renowned organizations including Estée Lauder Companies, Givenchy, Waldorf Astoria, and Printemps, bringing sophisticated design-led technology solutions to the luxury sector.
The Liquid Crystal website itself layers in modern UX, web development, and web3 mechanics. The Lovie Awards are given to creative works that exhibit exceptional achievement as defined by the Academy, which received nearly 1,000 applications from 30 countries. Notably, within the Weird & Experimental, Liquid Crystal used their online identity as an opportunity to showcase a seamlessness integration of web3 artifacts to enhance web2 experiences. The website also previously received 5 W3 Awards, including Best In Show, in 2021, an Honorable Mention from Awwwards.com as well as a submission on FWA.
The site features a commissioned interactive art piece (written in WebGL), along with a conversational UX that updates the page content with visitors' inputs. The 'Friedrich's Spherule', is the title of the NFT embedded into the Liquid Crystal website.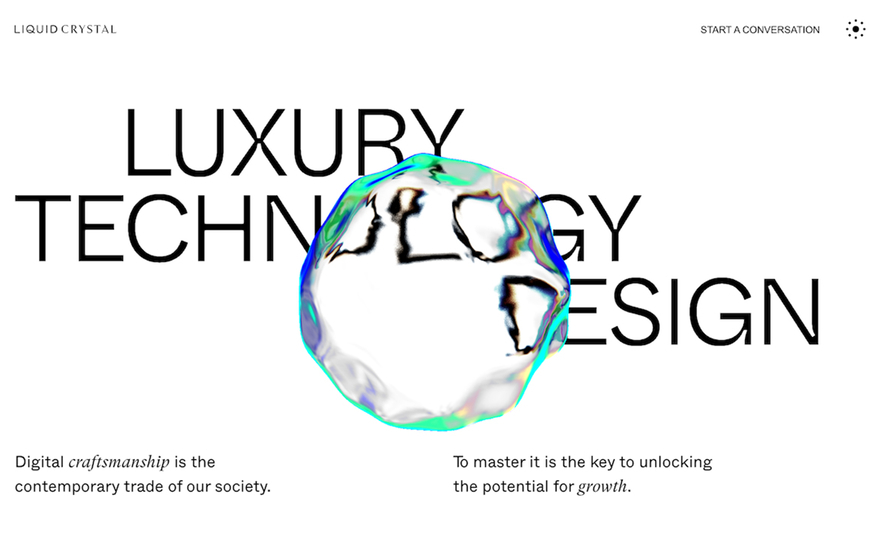 Liquid Crystal's website // Makebeautifulwork.com
This award is a testament to the skill, ingenuity, and vision of its creators.

Nicolas Roope
Executive Chair
IADAS
The Lovie Awards, presented by the International Academy of Digital Arts and Sciences (IADAS), is the most prestigious honor in Europe for excellence across websites, online advertising, internet video, mobile & apps, and social. IADAS, which selects The Lovie Award Winners, is comprised of Internet industry experts, including Musician Imogen Heap, Actor/Writer Stephen Fry, Renay Richardson (CEO of Broccoli Content), "Father of Wi-Fi" Vic Hayes, Artist George The Poet, Eliot Higgins, (Founder of Bellingcat), Alexander Ljung, Founder & CEO of Soundcloud and Actor/Producer Ashley Walters.