Vela™, a transformative product line created by Seaman Paper and L+R, has won the gold level award for Branding for Social Change as part of the 2020 Indigo Design Awards.

Seaman Paper, the leading global manufacturer of lightweight paper packaging solutions, developed 100% recyclable tissue bags, designed to replace the single-use non-biodegradable poly bags. L+R helped create the strategy to position, name, and market the Vela brand.

L+R's brand strategy team worked with Seaman Paper to develop the product lines' positioning, name, and visual identity with the vital goal of representing the transcendent nature of the bags for the future of our planet. The process started with a research phase that covered environmental campaigns, global movements, and products that make a difference.

"In a highly-focused process, L+R collaborated with our team to identify our uniqueness in the market, increase brand value, and stand extremely differentiated from all of our competitors. It was pivotal to our signing on of many of our key pilots and retailers in the apparel industry."

Cal Kennedy
Sales Representative, North America
Seaman Paper
"We focus primarily on a strong concept and visual communication. It is an honor to empower this brand to increase awareness of the value of tissue bags and the transformative effect this product will have on our world," said Chris Martinie, a Senior Designer at L+R. "We are helping Seaman Paper explore opportunities for meaningful partnerships and cross-marketing initiatives to help spread their message through Vela's brand identity. We are honored to be part of the team that has been recognized by Indigo."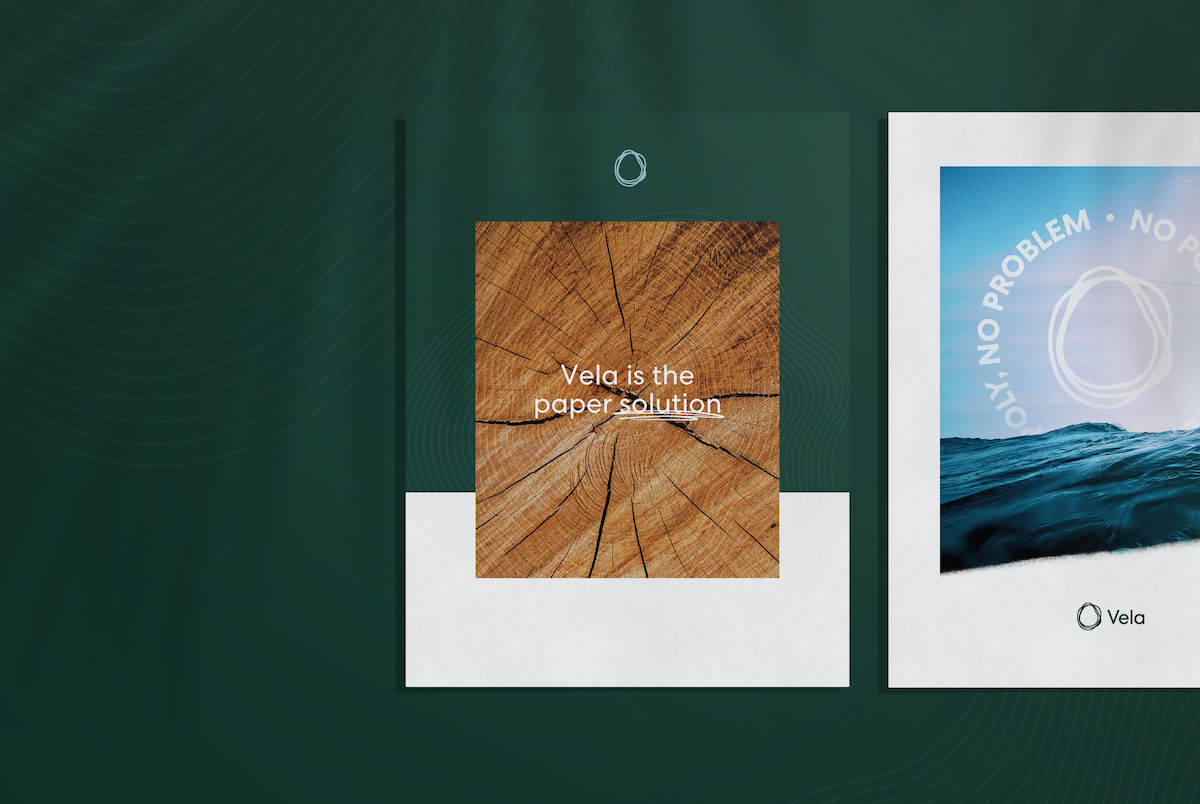 The name Vela means "sail" in Italian. The motif of a sail simultaneously evokes feelings of freedom and empowerment as well as embodies tactical course changes based on nature's unpredictability. Seaman Paper has a history of using water and nautical motifs that have stuck as key parts of its heritage. International apparel retailers would not only be changing their suppliers but also be leading the way in their industry by ordering from Seaman Paper.

The mark was inspired by ripples in a body of water and tree rings representing how Vela's products will help build a cleaner planet and unity between the land and the sea. The delicate, abstract rings overlap to symbolize the balance and merging of the modern world and nature, or the man-made and the organic.

Vela received a total of four awards from Indigo including another at the gold level award in the Logos for Social Change category, the silver in the Promotional Materials for Social Change category, and the bronze in Website Design for Social Change


About Seaman Paper
Seaman Paper Company is the leading supplier of lightweight decorative tissue papers for retail packaging, consumer products and industrial lightweight papers. Founded in 1946, the company is a privately owned, vertically integrated paper manufacturer with investments in plants and facilities that provide manufacturing diversity and technical capabilities to support the company's future growth on a domestic and global level. The company has grown globally through continuous innovation of our product line with a strong focus on sustainable manufacturing. Learn more at seamanpaper.com


About L+R
L+R is an international Strategy Consulting Firm and Digital Studio. The award-winning team turns insights into action. Learn more at levinriegner.com