Warner Bros. Advanced Narratives
Classified
A participatory, web3 digital experience to inspire the future of storytelling in film and TV
Highlights
Revolutionizing storytelling: AI and emerging technologies power choose-your-own-adventure entertainment for the digital age.
Immersive and personalized: Real-time feedback adjusts the story to viewers' conscious and subconscious feedback, creating an entertainment experience tailored to each individual.
NFT integration: Users can mint a unique image of themselves as an NFT "key" to unlock future experiences in this web3-powered platform.
The Challenge
What if your favorite television series could change to include more of your favorite characters? What if each episode could change based on fluctuations in your temperature and heartbeat to give you an immersive, emotional viewing experience — every time?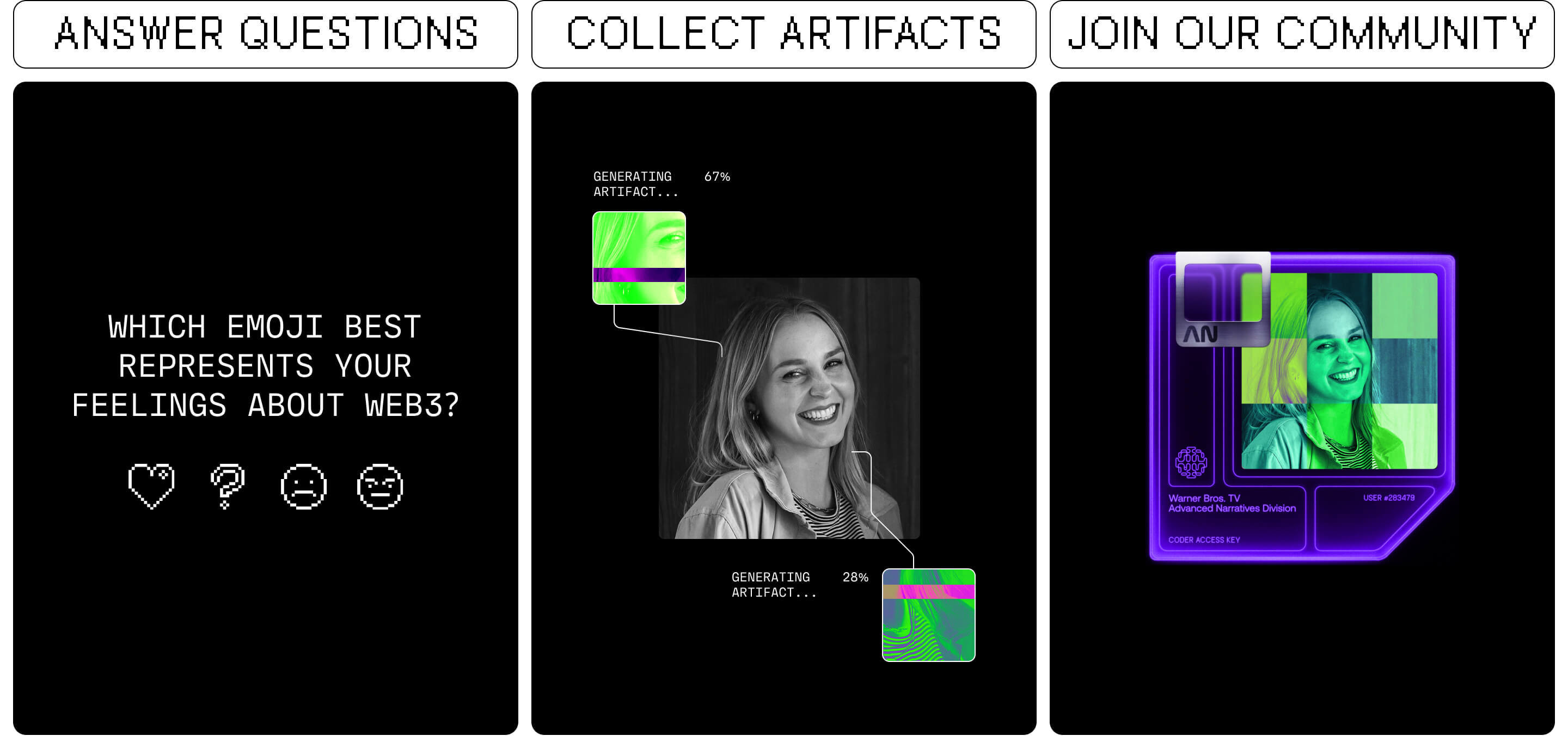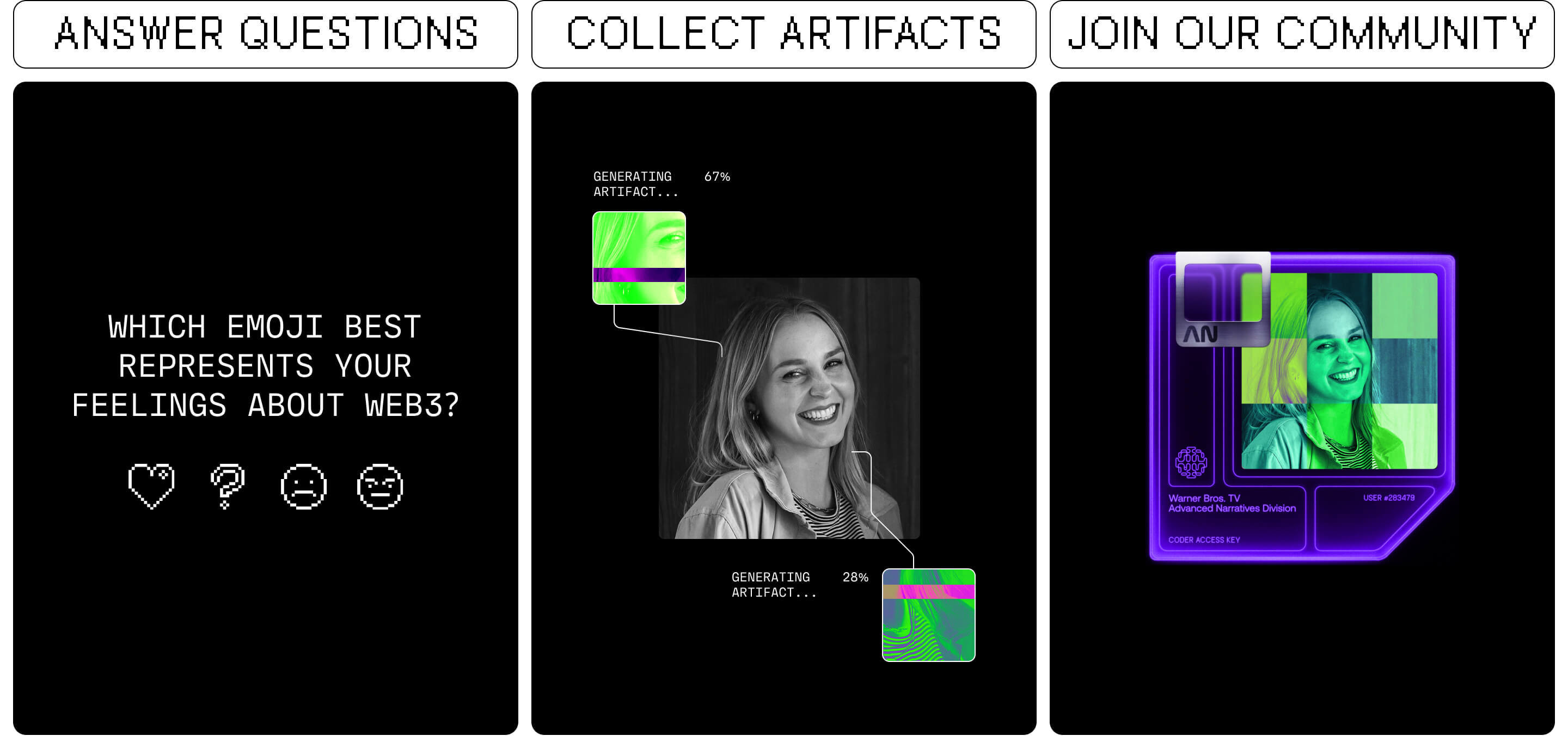 Digging deeper
Advanced Narratives is a division of Warner Bros. Television that is using AI and emerging technologies to radically reimagine the choose-your-own-adventure format of our childhoods and make this previously unimaginable form of immersive entertainment possible.

Real-time Feedback
Using viewer inputs ranging from voice and text messaging to eye movement, body language, and biofeedback, Advanced Narratives adjusts the story in real time based on viewers' conscious and subconscious feedback. The result is an entertainment experience perfectly suited to a specific viewer at a specific point in time.
An Experience Designed to Excite and Educate
Advanced Narratives approached L+R to design an immersive web experience that would allow visitors to experience its vision for the future of storytelling. The site would also need to normalize the use of AI in entertainment by educating an audience that would, in part, be hostile to the idea.

Stunning Results
L+R produced an online experience that leverages visually stunning design and immersive interactivity to provide viewers with information about the company in a way that exemplifies Advanced Narratives' approach to storytelling.
A User-Led Experience
The team designed a nonlinear experience through which visitors are guided based on their point of view — curious, creative, or coder — their level of experience and expertise with AI and generative content, and their attitudes toward these technologies. So, a screenwriter who feels uncertain about AI-generated content will follow a different path through the site than a coder with deep expertise.
A Sci-Fi Experience
Fonts, colorways, animations, and interactions were chosen to give the site a retro-futuristic aesthetic that heavily references the Matrix franchise — the Warner Bros. series that redefined the genre in the late 1990s. The visual design of the site sparks users' imaginations and also serves as a self-aware satirization of the project's straight-from-science-fiction premise.
An Introduction to Co-Created Generative Content
As users navigate the site, we leverage the incredibly popular Open AI DALL E engine to create a unique image of the user. At every step, the user's answer prompts the creation of a unique artifact based on part of the image. By the end of their journey through the site, users have a unique image of themselves that mirrors the site aesthetic. They can download the image as a .png to use as a profile picture, or mint it as an NFT "key" they can use to unlock future experiences.
In need of L+R's services?