Schumacher Case File
Declassified
A hundred year old textile manufacturer digitizes their customer experience
Client

Services
Digital Product Development
Applied Innovation
Highlights
54+ 5-star reviews on the Apple App Store
Gold Award Winner for Mobile App 2016 by W3
Assignment
We worked with the team at F. Schumacher & Co. to create a mobile and tablet application that evolved the interior design industry's process.
Recognized by Luxury Daily as a «trade-first mobile touchpoint», the app increased efficiency of their sales team and unlocked a new revenue stream with their customers.
"…an amazing app that not only looks beautiful, but also functions beautifully."
Aaron Buckland

Senior Product Manager
at F. Schumacher & Co.
Background
At 129 years old, F. Schumacher & Co. has maintained its success by continuously producing relevant style and design.
The Schumacher team realized they needed to innovate their offering to continue to provide a top quality experience for their customers. However, without expertise or an internal team, F. Schumacher & Co. looked to L+R for guidance.
Challenge
How can L+R enhance each step of an age-old process?
Build a tool for interior decorators; a utility that would be used throughout the professional's process- from their first site visit with clients to the final installation.
During one of L+R's Applied Imagination Sessions™ with Schumacher's key stakeholders, we uncovered that there were more opportunities than just the problem we set out to solve...
Breakthrough
Power in numbers. Simplicity in design.
It became clear that it wasn't just the brand that could benefit from the product we had set out to design. Sales flow could also be greatly optimized by leveraging a digital platform. The platform itself housed a core utility for the business: sorting through tens of thousands of SKUs.
With this new discovery,
we honed in on a solution.
Work
Customer
Experience
A mobile application and a tablet application for their showrooms with a comprehensive visual search utility and strong identity.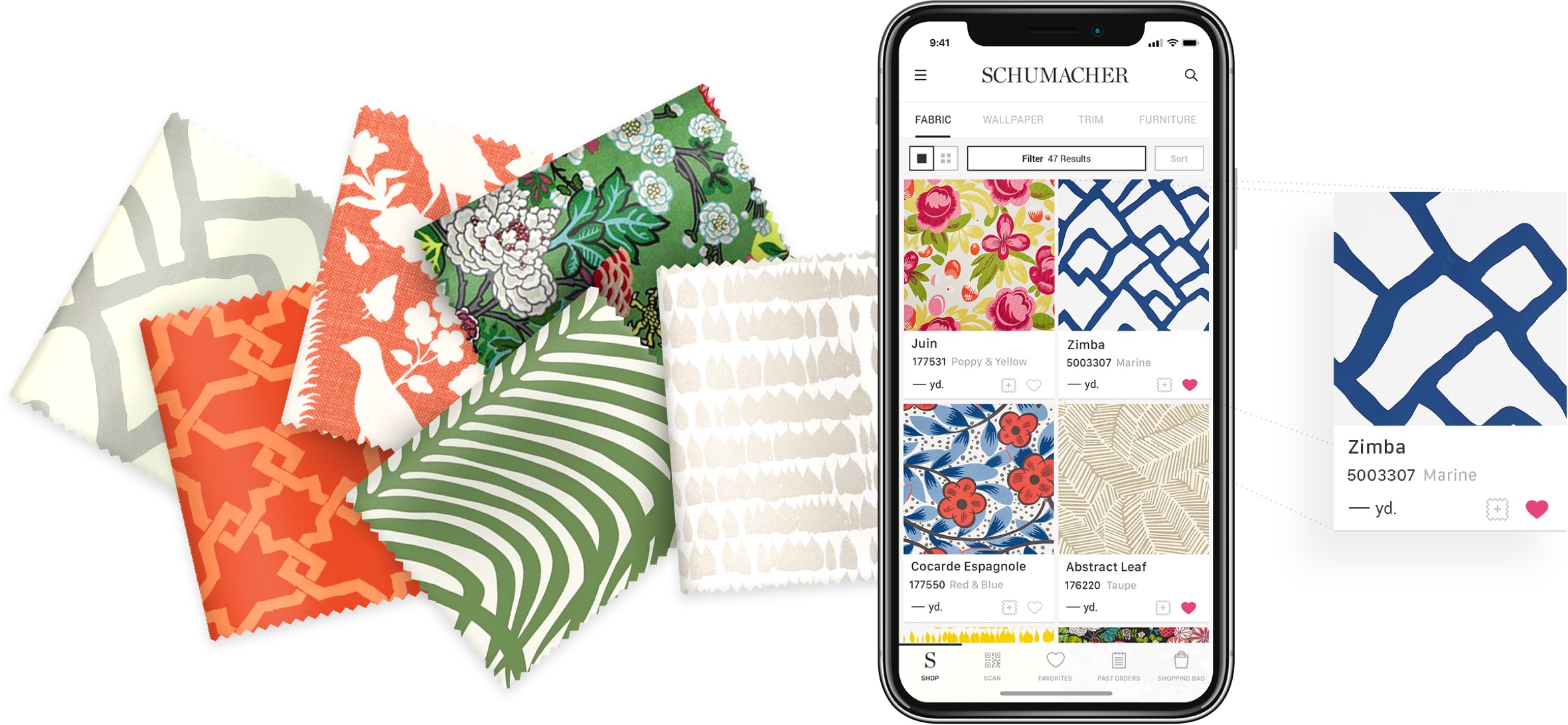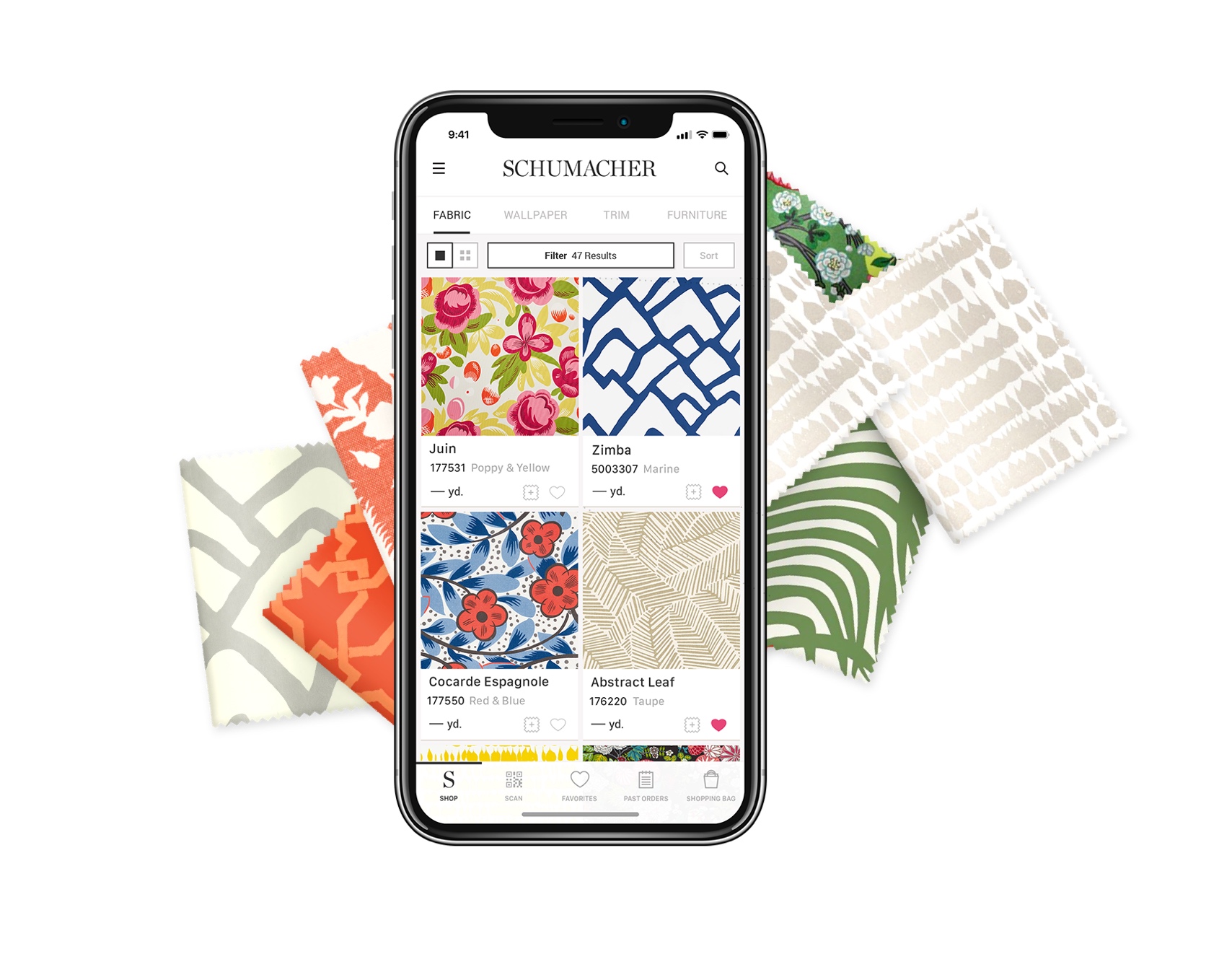 Finely-tuned filters that are unique to Schumacher's prestigious styles.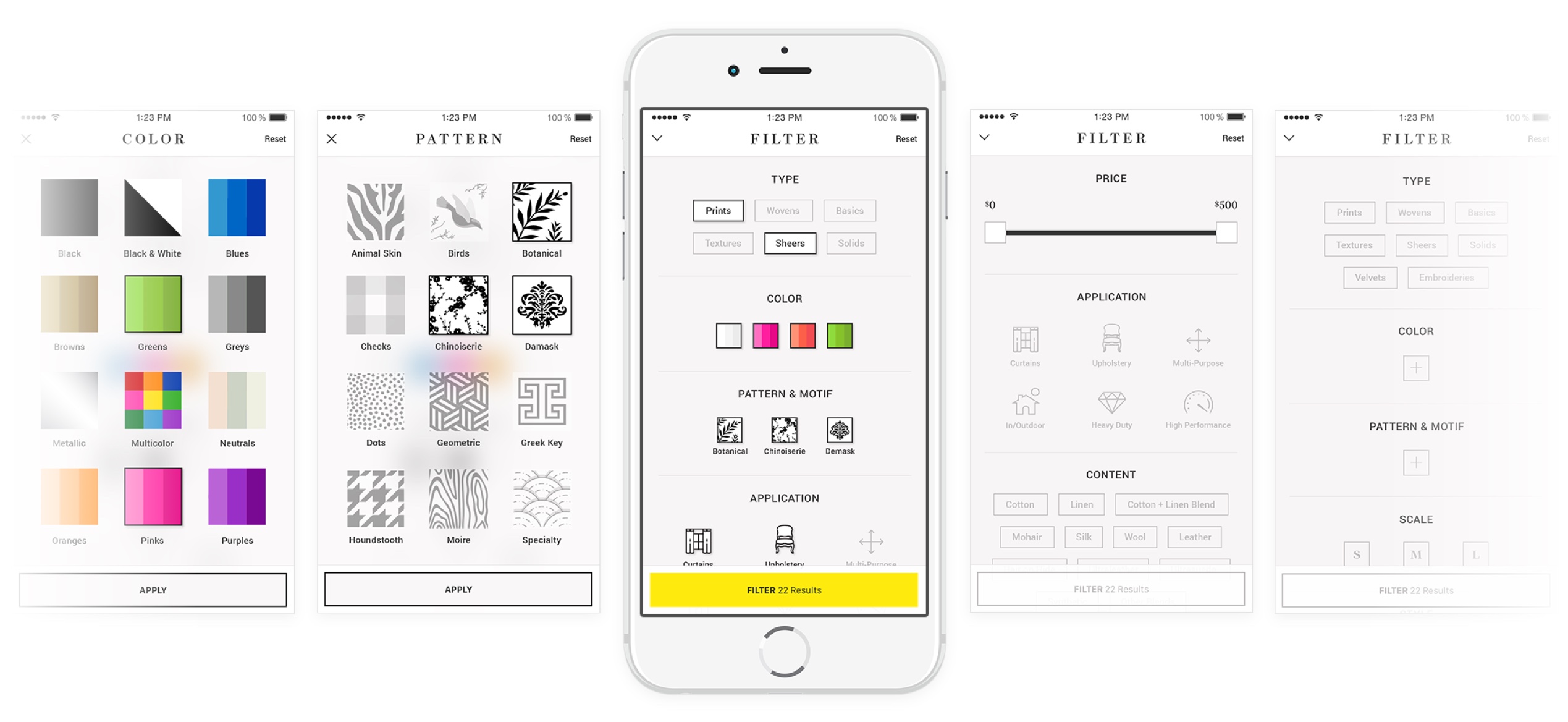 Comprehensive
Product Search
An authentic Schumacher experience from inspiration to checkout.
The expansive offerings of Schumacher's iconic fabrics integrated into a digital platform saves sales representatives, interior designers, and industry professionals from lugging around binders of swatches.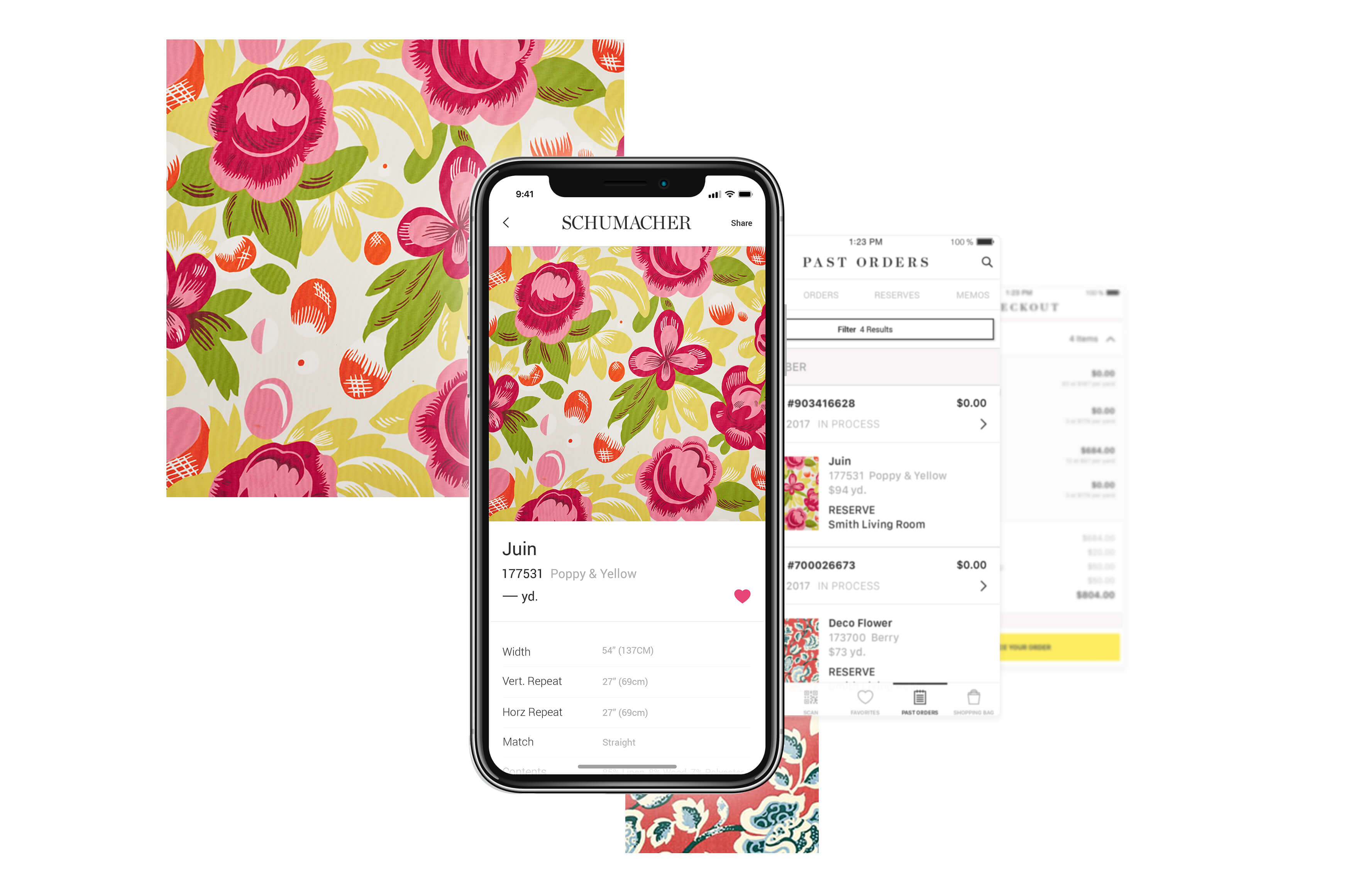 Showroom to digital showcase
The applications enhance the showroom experience by putting their entire offering accessible on the floor within a few taps. Reducing the amount of square footage needed to display everything they make.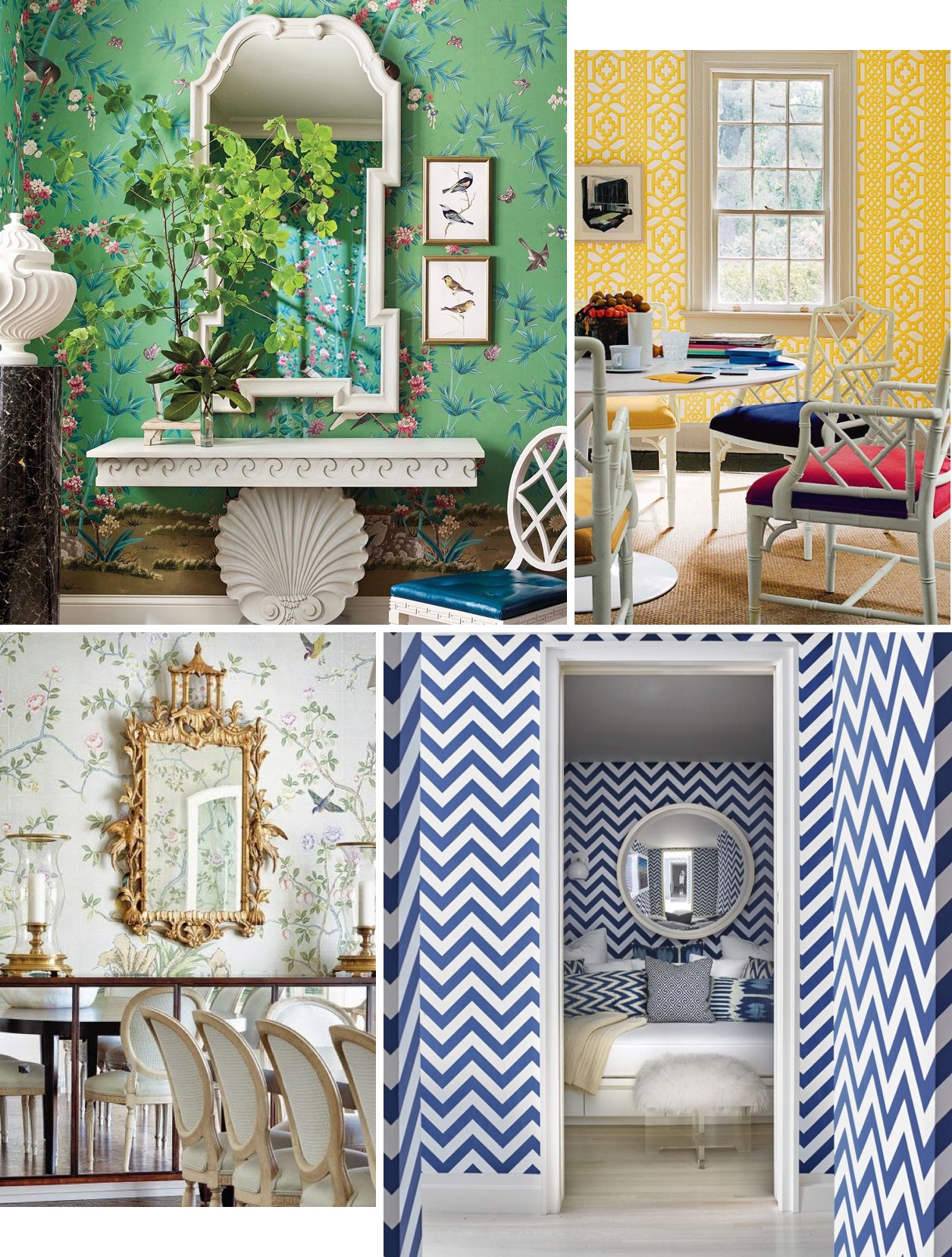 Data Strategy
Our analytics platform continues to build insights and allow for analysis of how users are behaving within the app to optimize for usability and business goals.
"Our clients not only love using it, but for many it has become an essential tool."
Aaron Buckland

Senior Product Manager
at F. Schumacher & Co.
Outcomes
4000+ Product Searches
In-app per month
Worldwide showrooms
App deployment
310% Increase
Mobile orders
Download app
iOS
Looking for a solution like this?